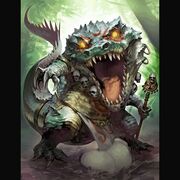 Dragodine is a crocodile Evil Lord, he hates dragons and wants to show the superiority of his type.
He appears in the level Dragon Island.
Trivia
-Dragodine breaks the fourth wall declaring himself as the "Main Character"
-The Dragon Lance is really effective against Dragodine even though he IS a crocodile.
Goddess Room Descriptions