Welcome to the Half Minute Hero Wiki
The Half Minute Hero encyclopedia.
Warning: the Wiki may contain spoilers. Read at your own risk.
Contents
Featured Article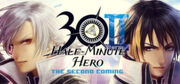 Half-Minute Hero: The Second Coming is releasing on Steam on the 4th of April 2014! Store page here
Featured Video
Featured Poll
What is your favorite Game Mode?
Blogs
Create blog post
News
MarvelousUSA is asking via Facebook *if* they localize Half-Minute Hero 2 should they also localize the songs in it or leave it in Japanese. Use your facebook account and vote for your asnwer here

Read more >

From their official Half-Minute Hero twitter, it looks like Marvelous USA is having a survey to see if its viable bringing Half-Minute Hero 2 to the west.

Take the survey here: http://www.surveygizmo.com/s3/1080112/Half-Minute-Hero-2-Coming-to-the-West

Twitter post: https://twitter.com/HalfMinuteHero…

Read more >

With the popularity that this Wiki has been seeing of late, the Wikia Content Development Team decided to reach out and help you guys have a more exciting main page that is better organized. We hope that you like the changes we have implemented.

Read more >
See more >
Featured Media