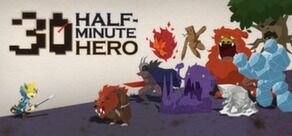 Half Minute Hero: Super Mega Neo Climax Ultimate Boy is a port of the Xbox 360 version released on Steam and Playism on September 27 2012.? It has the following features:
All PSP and Xbox 360 game modes
Retro and cartoony graphics
Leaderboards
Steam Achivements
Steam Cloud
Multiplayer
French, Italian, Spanish, German and Japanese translations

However, this version still does not have the Goddess Room or Music Player, and the only reward for completing Hero 3 is an Achievement. The PSP quest Another Goddess is still replaced by the 7 new levels from Super Mega Neo Climax.