We're Getting Mutants in the MCU - The Loop
Play Sound
Hero's Departure is the first quest in "Hero 30" in Half-Minute Hero. Unlike all other quests it begins without an Evil Lord or timer.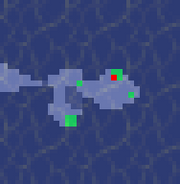 Level 1: Hero's Departure

| | |
| --- | --- |
| Title 1: Straying | Fail to save the world three more times after making the contract with the Time Goddess. |
| Title 2: Forgotten | Find the Herb in the boat to the East |
| Evil Lord | Hackein |
| Companion | None |
| Reward | Tatty Togs from the Minister |
Items in Level
Monsters in Level
Crabby

Mouth Flower

Hopple

Jelly
Level Guide
 	 	   

Standard Run
This level is simple enough, beat 3 Grass Fiends and then go to the boat and pick up the Herb. Purchase the Ramen (10G) from town if needed. Go to the Castle, talk to the King then watch the cutscene. After this buy the Wood Sword and train in the forest near the Evil Lord castle and beat as many enemies as you can until you run out of time. The Time Goddess will save you. After that go back to the Town where you purchased the Wood Sword and buy another herb if needed then train at the forest near the Evil Lord Castle. When you reach level 5 you will see "You > Evil Lord", meaning you are now powerful enough to easily defeat the Evil Lord, so do just that after running out of time 4 times.
Speed Run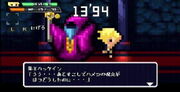 The target time for this stage is 1:00. Immediately defeat the three Grass Fiends and retrieve the herb from the boat. Dash to the castle and quickly talk to the King. As soon as the King finishes talking, dash to the village, buy the weapon and exit. Battle on the beach and heal in town if needed (do not use your herb). When you hit level 3, start battling in the forest until the Time Goddess saves you, then immediately dash back and get to level 5. When you hit level 5 dash to the Evil Lord's castle and dash into him for a quick victory. Your final time should be around 40-50 seconds.
Hero 30 Quests
1 · 2 · 3 · 4 · 5 · 6 · 7 · 8 · 9 · 10 · 11 · 12 · 13 · 14 · 15 · 16 · 17 · 18 · 19 · 20 · 21 · 22 · 23 · 24 · 25 · 26 · 27 · 28 · 29 · 30
1 · 2 · 3 · 4 · 6 · 8 · 9 · 10 · 11 · 12 · 13 · 14 · 15 · 16 · 17 · 18 · 19 · 20 · 21 · 22 · 23 · 24 · 25 · 26 · 27 · 28 · 29 · 30 · 31