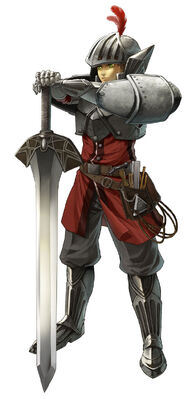 "Goddess Era 500...

With the Time Goddess gone, a salvaged knight and a sage set off on a journey.

Using all sorts of actions, he will defend the sage for 30 seconds no matter how many time he dies.

Death Defying Action Game!"
In Knight 30 you have to defend the Sage, but you can't kill the enemies - you can only stall them. You have to stop the enemies in any way possible even if it meens jumping on the back of the foe.
This is the only game mode in Half-Minute Hero where the player has to work towards getting the counter down from 30 rather than trying to avoid it.
Levels
Ruined Castle and Beginnings

Oath to Knighthood

Fragile Cave: Keep Digging

Hiking Trip: Sonic Grillade

Shaky Cave: Freakish Bullwood

Shrine: Rasier the Bewitcher

Ringing City: Break that Bell

Beast Forest: Pack of Wolves

Mammoth Panic: Unstoppable

Bird Nest Mountain: Grillade's Trap

Wandering Forest: Lost

Princess Castle: Finale with Grillade

Burning Desert: Barren Lands

Monster Swamp: Infinite Monsters

Noise Town: Kill the Cause

Shaking Cave: Fun with Bullwood

Sage in the Swamp

Evil Lord's Castle

Knight's Holiday… Or Not

Fake Forest: Watch for Fakes

Secret Factory: Bells

Fake Town: Sages Galore

Deep, Deep in the Cave

Hero Castle: Knight VS Dark Knight

Char Desert: Where's the Sword?

Ghost Castle: No One Left

Warning: Dead End

Guardian Mountain

Underground Ruins: Awakened Dragon

Goddess Shrine: Ultimate Spell
Other info
List of main characters in Knight 30