Time Goddess

The Time Goddess.
Vital statistics
Title
Gender
♀
Race
Divine
Faction
Health
Level
Status
Location
The Caravan
The Time Goddess is a character in Half-Minute Hero and Half-Minute Hero 2. She bears dominion over time and has been fighting against forces of evil for over 500 years. She really likes money.
She uses the Hero as her pawn in this battle. By praying to the Goddess Statue (and granting her 100g or more,) the Time Goddess will reset the countdown until the end of the world to 30 seconds.
She helps him by adding more time, so the sun doesnt appear.
The Time goddess aids the Princess by adding the Time Carpet, in which time is added if money is paid ♪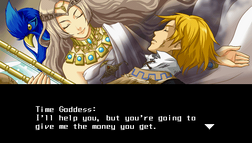 Goddess Room Description